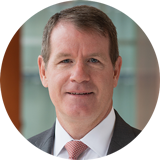 Mickey MacMillan
Senior Managing Director, Portfolio Manager | Front Barnett, A Mesirow Company
Mickey MacMillan is Senior Managing Director and Portfolio Manager at Front Barnett, A Mesirow Company.  Front Barnett Associates, a Chicago based employee-owned Investment Counseling Firm, merged with Mesirow in September 2023.  Mickey is a member of the Front Barnett Executive Team, Investment Committee and Management Committee. He continues to serve as the lead portfolio manager and advises both high net worth taxable and tax-free clients.   
Mickey has over 30 years of investment and financial services industry experience.  He joined Front Barnett in 1999 from J.P. Morgan & Co. where he was a member of the Private Client Group responsible for managing client relationships across investment management, fiduciary, custodial, credit, and traditional banking products. 
Mickey currently serves as an advisor to the Columbia College Chicago Investment Committee. 
Mickey earned his Bachelor of Science degrees in Finance and Economics, Magna Cum Laude, from Mt. St. Mary's University (Maryland) and a Master of Business Administration in Finance from The University of Chicago Booth School of Business. 
Mickey has been actively involved with WPPA, a city-based youth baseball and softball organization, for over 10 years serving as commissioner, board member and coach.  He formerly served as co-chair of junior board of directors of Midtown Education Foundation (MEF), member of the Midtown Advancement Council (MAC) and Midtown one-on-one program tutor and has volunteered with the Tax Assistance Program (TAP) and the Chicago Cubs Charitable Organization.