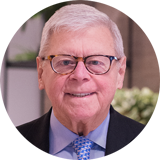 Marshall B. Front
Senior Managing Director, Portfolio Manager | Front Barnett, A Mesirow Company
Marshall B. Front is Senior Managing Director and Portfolio Manager at Front Barnett, a Mesirow Company. Front Barnett merged with Mesirow in September 2023, almost thirty years after its founding in Chicago as an independent, employee-owned investment counselling firm. He is responsible for overseeing the Front Barnett investment process which features a distinctive, fundamentally driven, high-quality, large cap growth and value discipline for the management of equities, and a conservative, duration-controlled approach to fixed income management. The investment process is informed by the firm's proprietary Economic Model which Marshall devised in 1994.
Prior to his tenure as Chairman of Front Barnett LLC, Marshall served in several senior management roles at Stein Roe & Farnham, a Chicago-based Investment Counseling firm, where he was President of the family of Stein Roe mutual funds, President of Stein Roe Investment Counsel and, for over 20 years, a member its Executive Committee. Throughout his time at Stein Roe, Marshall continued in his role as portfolio manager and trusted advisor to many of the firm's major clients. 
Marshall is a Vice Chair of the Field Museum Board of Trustees and Chair of its Endowment Investment Committee, a Trustee of WTTW/WFMT, a Life Trustee of the Museum of Contemporary Art, and serves as advisor to the Board of Trustees of Columbia College Chicago and the Renaissance Society at the University of Chicago on their Endowments. He was President of the Board of Trustees of the Latin School of Chicago from 1991 through 1997, a Trustee of the Illinois Institute of Technology and Chaiman of the Board of Archeworks. Marshall is a member of the Economic Club of Chicago and the Chicago Club.
Marshall earned his AB degree from Columbia College (New York) and an MBA from the Columbia University Graduate School of Business. He received an honorary PhD from St. Xavier University (Chicago) for Distinguished Community Service.